1st December, 2014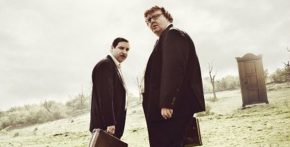 Nick Whitfield's 'Skeletons' will be broadcast on BBC One this week. The supernatural comedy will be screened at 12.10am on Wednesday 3rd December in all regions except Northern Ireland, where it will screen at 12.40am on Thursday 4th December.
The story follows a pair of travelling salesmen, wandering in and out of people's lives, performing a Procedure whereby hidden secrets and lies are exposed. When they arrive at a remote family home and can't seem to get the job done, they discover that you can't always get away from your own skeletons.
Co-produced by Edge City Films and Forward Films, the EIFF award winning 'Skeletons' previously played on BBC Two last year.
The film was produced by Paul Welsh (for ECF), designed by James Lapsley and shot by Zac Nicolson, all of whom are working together again on ECF's forthcoming feature  'The Creator'.